BARYTES BRIEFS
Volume 4 Issue 2 Autumn 2004
THE NEWSLETTER OF THE BARYTES ASSOCIATION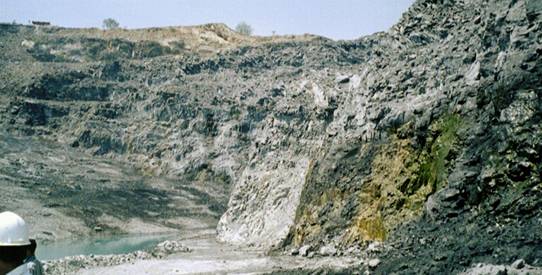 The Barytes Association visit to Andhra Pradesh Mineral Development Corp's Mangampet Barytes Mine, India
Update on Members and Activities
This is the "autumn" newsletter ahead of our dinner and General Assembly in Brussels on 25th 26th October. Once again we will be staying at the Jolly Sablon Hotel as last year. At the time of writing some 11 of our 17 members are planning to send representatives and we expect to be around 20 in total. We particularly welcome Handan Contar from Ado Mining; and Paul and Luke from Cebo Netherlands attending their first Assembly.
We have gained three members this year – APMDC and IBC from India as well as Baroid in the US. However overall membership has stayed at 17 with the loss of Cimbar (US), Kremicovtsi (Bulgaria) and Somibar (Algeria). There are no immediate new members but several are in our sights – from the US, Canada, Iran, Kazakhastan and from Morocco – and we will update further at the meeting
With next year's spring meeting mid-May in Nevada we hope to attract increasing interest from potential members in North and South America. MI and Baroid are joint hosts for the event and will give us an outline on the 26thand more details by early 2005.
With an increasing non-European membership we are seeking ideas to make the Association more international in appeal without reducing the service to our European membership. Thoughts and ideas are sought for discussion at the Assembly.
Several members have asked whether we could re-schedule the autumn meeting around the timing of the Industrial Minerals forum and dinner in mid-November to enable longer-haul members a double reason to visit Europe in the fall – & your views are sought.
We only have some 60% response on the SDI questionnaires covering both 2002 and 2003 compared to over 90% for 2001. Hopefully we will get support from those who still have to reply. This information gives a very positive face to the barytes industry worldwide and your support is requested.
Elections. Michael Key and Lutz Gunther are both willing to continue as President and Vice President/Treasurer for a further 2-year term, and Charlie Brown is also willing to continue as a member of the Executive. We would like you to consider a further nominee for election to the Executive – possibly to represent our non-EU members.

The agenda and papers will be posted on our website www.barytes.org  along with this newsletter – and other papers and presentations will be made available after the meeting.


Our Indian hosts in Chennai, March 2004
Industry Update
Technical Meeting




We held our first meeting on 27

th

 July to cover topics of particular interest to members. This attracted 7 member companies with 2 outside the EU. We are specifically looking for members to identify technical representatives to form a virtual sub-group on these matters to debate through e-communication, telephone contact and possibly an annual meeting. Please advise me of the appropriate contact in your company.

Minerals are not Chemicals
We are commited to ensure natural minerals like barytes are excluded from the EU REACH proposals.

We will continue to demonstrate the advantages of barytes over possible alternate materials and to explain why barytes does not recycle; and to demonstrate the inert nature of our mineral barytes output on eco-systems.


Ospar – Barytes in Drilling Muds
Our efforts as an Association resulted in a powerful counter to Norwegian proposals to have barytes removed from the safe list (PLONOR). The group meet annually in March.
Radek Pavelek of Minerals Girona will update us on his world survey at the Assembly.
IMA held a further meeting in Brussels this month and are still trying to avoid classification as a carcinogen by producing a good practice agreement as an alternative. This will be discussed between industry and Trade Unions at a meeting on 8th November. Members who have input on this issue are asked to provide details.

 
European Policies
Corina Hebestreit will update us on the latest developments of EU initiatives including …..
Safe Operation of Mines

Chemicals Directive

Groundwater and Soil Proposals

Environmental Liability

Health & Safety – eg NO
Worldwide Policies
We have asked Bob Bailey of MI-SWACO and Prasad Koneru of trimex to brief us at the Assembly on Environmental and legislative regimes in their countries.
Annual Barytes Reviews
We look forward to letting you have copies of the USGS report from Jim Searls and the Mining Journal from Brian O'Connell. Both will be pre-publication copies.
As previously advised there have also been two excellent glossy barytes brochures from British Geological Survey – downloadable from http://www.mineralsuk.com/free_downloads.html 
Trends in Consumption and Use
The presentation line-up for Chennai will be
Oil Industry – Paul Schouten Cebo

Fillers-Lutz Gunther of Sachtleben

Other – Francis Pinier of Chaillac


Prices
Lump cif US gulf coast October $/t
| Country | 2001 | 2002 | 2003 | 2004 |
| --- | --- | --- | --- | --- |
| China | 45-48 | 42-46 | 43-48 | 62.5-64.5 |
| India | 48-51 | 48-50 | 47-49 |  69-71 |
| Morocco | 50-52 | 50-52 | 50-52 | 62-65 |
Pricing trends from "Industrial Minerals".
Diary Dates
2004
25-26 Oct Barytes General Assembly, Brussels

4-5 Nov Sustainable Land Management, Krakow, Poland

18 Nov Industrial Minerals Forum/Dinner, Amsterdam

30 Nov Sustainable Use Natural Resources, Brussels
2005
18-19 May Barytes General Assembly Nevada US

Oct/Nov Barytes General Assembly, Brussels
The Barytes Association Mangampet Mine Visit, March 2004
Published in the UK by THE BARYTES ASSOCIATION
Tel/fax: +44 1433 639 879 e-mail: barytes@aol.com  website: www.barytes.org 
©P L Huxtable October 2004 An Associate member of Euromines, Brussels